Hey everyone,
As you know, our smilies have always ranked amongst the best ones out there.
For those of you not yet acquainted to our little friends, here's how it goes:
When you click on [get more] under the smilies box:
A pop up window shows up with more of them, like this one:
Now, if you slide the bar at the bottom of that pop up box, you will find a second row of them on the right side:
Here's another hint, for Shoutbox lovers, the :__identification____: on the right side of the smilie will automatically change that id into the smilie you want to show in your Shout...
NOW,
I'm about to be uploading the bigger ones but before I do...
IT'S TIME FOR THE ALL TIME ROGUE NATION SMILIE SCAVENGER HUNT:
Are there any smilies you'd like to suggest that we should we carry?
Are there any smilies you'd wish we have?
Post them as a reply, in this thread here and if it's possible, we'll upload them.
The amount of smilies we can carry is pretty much unlimited but the size matters. We can always resize suggestions though.
GO FOR IT !!!
HUNTING SEASON IS OPEN !!!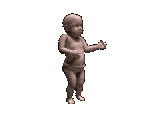 .