The Teotihuacan Pyramid
(
Photos from the FB page of Archaeological Wonders - https://www.facebook.com/archaeologicalw...7145222533
)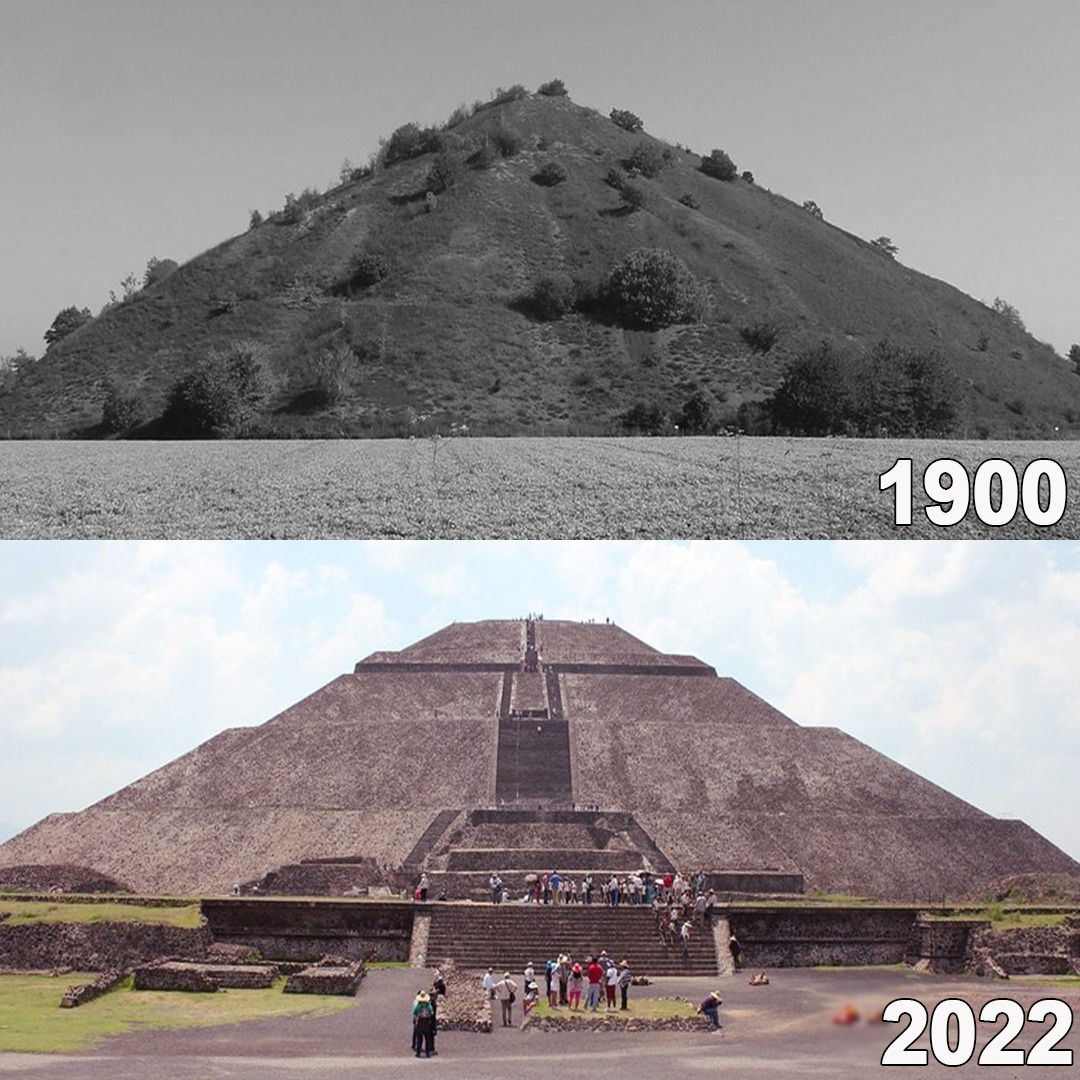 This pair of images flipped a switch in the old memory banks to a find and the loss of that find in 2009.
For starters, I don't recall exactly when I began using Google Earth for entertainment/discovery purposes, but am certain it must have been prior to early 2009.
And, while I don't recall the initial impetus, I am fairly certain it had to do with Peru-sing (

) the Nazca Lines.
An example from said Nazca Lines...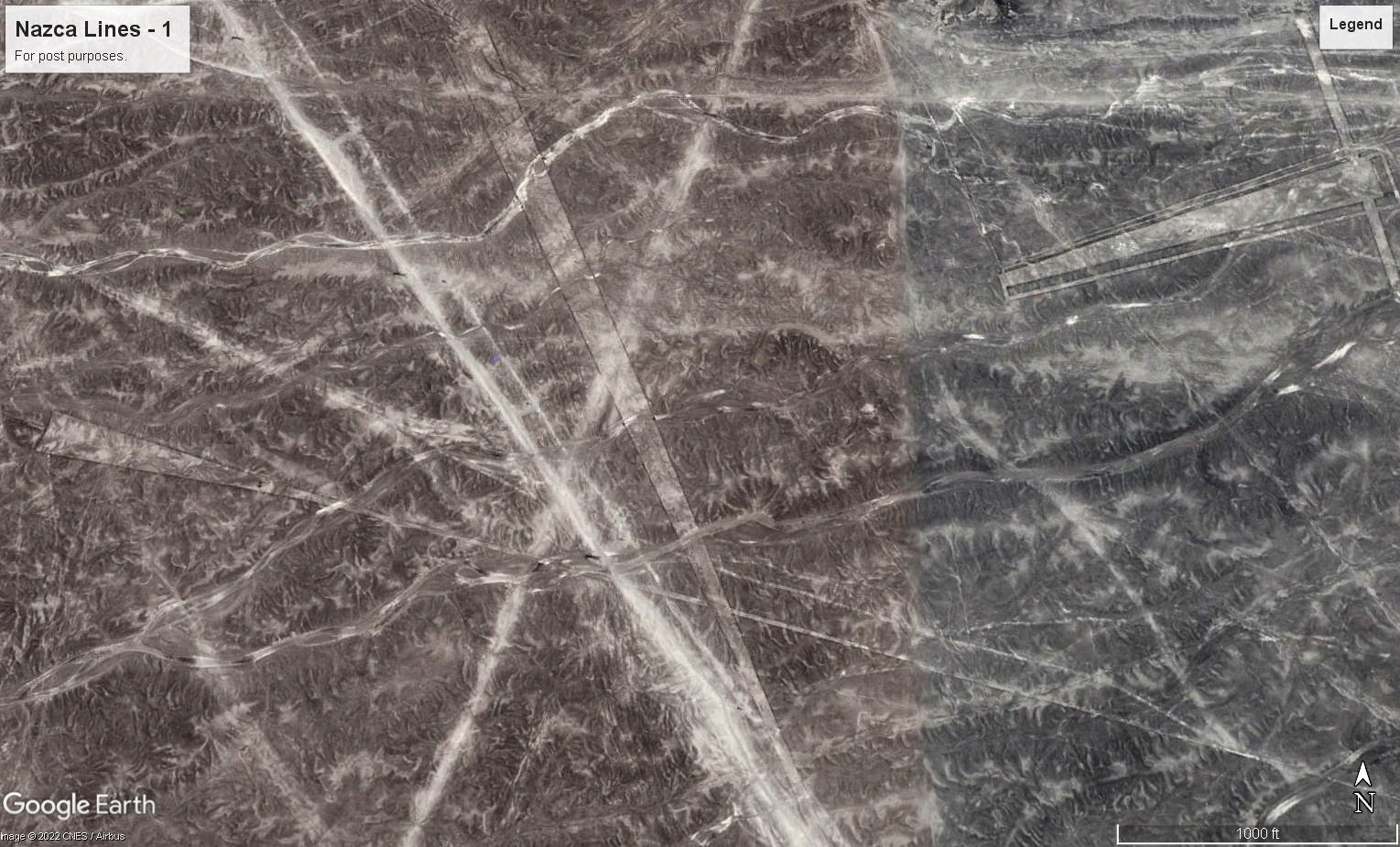 As those initial forays broadened, to span much of the globe, some efforts began to focus on Central America, and, more specifically, Guatemala...where I stumbled upon what was referred to, at the time, as El Mirador - a Mayan archaeological site in the northeastern corner (
at the time
), not far from the border with Belize.
Today, should you search "El Mirador, Guatemala" in Google Earth, you will be taken to the location of a restaurant much farther south.
Anyway - after a good bit of time searching the surrounds...one day, I found myself moving west along that northern border, marking and documenting high points, low points, and other points of interest...then, taking this effort in a northerly direction into Mexico...and, as those efforts developed, one day, said efforts were focused on documenting (
in fine detail
) a "mountain-top strip" that measured a couple of feet (
unvarying
) in width, and precisely 300 feet (
due north/south
) in length, amid a group of mountains
somewhere
in northeastern Mexico (
moving toward the border with Texas
).
I say "somewhere" (
in NE Mexico
) because of what happened, on THIS day (
November 26th
) in 2009...(
or, actually, November 27th - as will be evident shortly
)...
We were living in a duplex...and, sometime during Thanksgiving's evening hours, the neighbor's toilet (
or, the pipe that sent their-&-our waste to a sewer line in the alley
) became stopped, and backed up...causing said waste to back into our domicile.
We were notified of this disgust by the sound of canine paws splashing through the mess...during the cold dark hours of the morning of the 27th.
A great deal of urgent effort went into rescuing all manner of anything residing on the floor (
including such things as boxes of old photos
)...but - the spiral notebook in which I had logged the "mountain-top strip" sat directly on the floor...and, in effort to get as much of the "shit" out of our dwelling as possible, my wife threw it into a pile outside (
to go directly into the dumpster
). (
At the time,

it

was nowhere among my concerns.
)
A short time later, we had moved into a proper home...and, it was then that I discovered the loss of this 'treasure'.
I have tried numerous times since then to 're-discover' this anomaly in Northeast Mexico, to no avail.
But - the images above sparked the memory...and made me wonder whether I (
or anyone
) will ever find it, again.
Should you be anyone interested in taking up such an effort, you might note that said location was well north of Mexico City...and thus, the Teotihuacan Pyramid shown above.
The trick is in what one emphasizes. We either make ourselves miserable, or we make ourselves happy. The amount of work is the same.
~ Carlos Castaneda