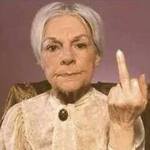 GeauxHomeLittleD
(Queen of Kdog's Castle)



About
Joined:
11-09-2022
Posts:
165
Threads:
12
GeauxHomeLittleD's Signature
As an American it's your responsibility to have your own strategic duck stockpile. You can't expect the government to do it for you. 
Additional Info About GeauxHomeLittleD
Gender:
Undisclosed
GeauxHomeLittleD's Most Thanked Post

Post Subject

Post Date/Time

Numbers of Thanks

And now for something completely different!

05-25-2023, 06:12 PM
10

Thread Subject

Forum Name

And now for something completely different!

Members Interests
Daily Chit Chat

Post Message

So this happened in a neighboring town to my hometown down in Texas. Just the sort of thing I would expect but thought I would share to give those who haven't lived in a small town a taste of the beauty of small town life as an alternative to all the drama.

In Groves, Texas a girl with Type 1 Diabetes got a service dog named Sadie. Sadie has gone to school with her human, Annslee, since 3rd grade and Sadie will now graduated with honors from Middle School.




Quote:Round of a paws for a special Groves Middle School graduate!



Sadie is graduating with honors from the 8th grade. She was a service dog for Annslee Barbosa, who will now move on to high school. 




Sadie started going to school with Barbosa, who is a Type 1 diabetic, in the 3rd grade at Taft Elementary, then to Groves Elementary and now up to 8th grade at Groves Middle School.



[Video: https://www.youtube.com/watch?v=uJSzDD2krFU]

News story at this link: She has more than earned her feather': Service dog graduates from Texas middle school with honors

After graduation Sadie will not be continuing on to high school with Annslee but will be guarding the family home- and hopefully getting ALL the teats and belly rubs!