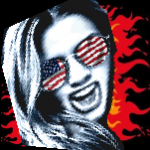 Freija
(Still That Bitch!)



About
Joined:
10-24-2022
Posts:
166
Threads:
11
Freija's Signature
Knowledge

is knowing that a tomato is a fruit.

Wisdom

is not putting it in a fruit salad.
Additional Info About Freija
Gender:
Undisclosed
Freija's Most Thanked Post

Post Subject

Post Date/Time

Numbers of Thanks

RE: I Sense New Growth For Rogue Nation

04-24-2023, 06:09 AM
6

Thread Subject

Forum Name

I Sense New Growth For Rogue Nation

Technology and Advancements
Computers, Internet and the Digital World

Post Message

I read every page of that thread and thought it all very interesting. I am longer a member there for several years now. Lurked for a couple years and joined in 2007 but have been er... excused from participation multiple times.

The problems there are far bigger than just the mud pit as the attitudes allowed there have infested the rest of the board and my own personal opinion is that 90% of the whole damn thing is a cesspit and horrendously unwelcoming to anyone even remotely outside the echo chamber of prevailing right-wing conservative ideology and that some of the folks there are obsessed and simply out of their damn minds.

Not that there aren't a few good and reasonable people there who haven't been sucked into whole left/right culture war madness thing but they are few and far between and occasionally there are some interesting threads but eventually even they get invaded by people just want to stir up shit.

If the mud pit is eliminated, they're going to have their hands full if they want the site to be more commercially appealing because the muddy behavior already permitted has opened the door to people being assholes and I'm afraid putting that genie back in the bottle will be impossible.

All I can say is that if there is a sudden exodus of members to this board, they damn well better not bring their bullshit here and muddy up what we've got going on. Granted, this site is pretty hard right leaning but hasn't devolved into the absolute shithow that's going on over there and I hope that doesn't happen.

That's my nickel's worth of thoughts on the matter.