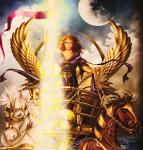 quintessentone
(Member)



About
Joined:
05-21-2023
Posts:
55
Threads:
0
quintessentone's Signature
Truth fears no question. Anon
Additional Info About quintessentone
Location:
In a Forest
Gender:
Undisclosed
quintessentone's Most Thanked Post

Post Subject

Post Date/Time

Numbers of Thanks

RE: US National Anthem Banned In Washington DC

Yesterday

, 01:21 PM
4

Thread Subject

Forum Name

US National Anthem Banned In Washington DC

Controversy and Debate
Social Unrest and Justice

Post Message

(

Yesterday

, 08:19 AM)NightskyeB4Dawn Wrote:

(

Yesterday

, 07:13 AM)Ninurta Wrote:

(

Yesterday

, 01:14 AM)quintessentone Wrote: Everyone can decide for themselves if that song would offend someone. At the link just click on the highlighted text for an historical explanation of the wording.

https://www.cnn.com/interactive/2018/07/...annotated/


I read through it, including the parts removed from the national anthem, and could find nothing offensive in it. But then again, I'm rarely ever offended by historical facts, especially when viewed in light of current realities.

There is something seriously askew in a world where a nation's national anthem is banned from being performed in that nation's capitol.

Who's really running this place?

.


All is well because nobody is buying Bud Light.

Damn shame that folk can boycott a beer company that the majority of the people don't drink anyway, and can be substituted without a blip or a thought, but when it comes to standing up for what really matters.......

Not even crickets.


I'm not sure what went on with that fiasco at the capital rotunda. The choir's leader states he obtained documents allowing the children to sing five songs, but the police there say the rules state that no singing is allowed. Maybe just a big misunderstanding but everyone including myself are totally confused as to what the rules really are and in government, in my experience, nobody knows what anyone else is doing.